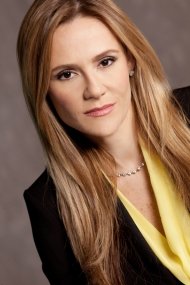 Miami Immigration Attorney
Ada B. Pozo
Radio personality Ada Pozo can be heard weekdays (6:00 pm ET, 3:00 PT) as host of the SiriusXM radio show ACCESO LEGAL, which is broadcast as part of the network's popular Cristina Radio channel (Channel 146). On the show, Pozo addresses a broad spectrum of issues in a style that is both informed and engaging, fueled by more than a decade of experience as a judge and trial attorney in Miami Dade County. She has appeared as expert legal analyst on numerous TV and radio news programs, including Fox News' "Your World With Neil Cavuto"; ABC's "Good Morning America"; and Univision's "Despierta America", "Al Punto", and "Aqui y Ahora". Pozo is a partner in the Miami-based law firm Pozo Goldstein, LLP where her focus is immigration and criminal defense.
As a former Miami Dade County Court judge for five years, Ms. Pozo presided over thousands of cases in the criminal, civil and domestic violence divisions, and has seen first-hand the impact of crime on families and the community. In addition, she was certified by the Florida Supreme Court as a mentor judge, and was tapped to assist and educate judges new to the bench.
As a trial attorney with the Miami Dade County Public Defenders office, she litigated cases ranging from DUI and cocaine possession to armed robbery, capital sexual battery, and murder, with an estimated 35-40% involving Hispanic defendants. She also served as a Forensic Social Worker for Miami Dade County.
Her interest in fighting for the rights of others was probably pre-destined, as Pozo comes from a long line of high-profile public servants. Her grandfather, Justo Luis del Pozo, was the last man to serve as Mayor of Havana, Cuba prior to the government's overthrow by Castro. Her father, Dr. Rolando Pozo, was the island nation's last Surgeon General prior to Castro's takeover. The family subsequently immigrated to the U.S. and settled in Florida, where Ada was born and raised.
Pozo holds both Bachelor of Arts and Bachelor of Science degrees from Florida International University, where she majored in Criminal Justice (B.S.) and Sociology/Anthropology (B.A.). She received her Juris Doctorate from the University of Miami. She is a member in good standing of the Florida Bar Association, the Cuban American Bar Association, the Florida Association for Women Lawyers and the American Immigration Lawyers Association.
Education
J.D., University of Miami
The Honorable Natalie Baskin Memorial Scholarship
Winner of University of Miami ATLA Mock Trial Competition
Member of Phi Delta Phi Honor Society
B.S., Florida International University
Major: Criminal Justice
Certificate in Latin American & Caribbean Studies
B.A., Florida International University
Major: Sociology/Anthropology
Minor: Psychology
Jurisdictions Admitted to Practice
United States District Court, Southern District of Florida
Professional & Bar Association Memberships
Cuban American Bar Association
Florida Association of Woman Lawyers
American Immigration Lawyers Association
Florida Bar
Member in Good Standing
Past Employment Positions:
Miami-Dade County Court Judge
Trial Attorney , Miami-Dade Public Defender's Office
Forensic Social Worker, Miami-Dade Public Defender's Office
FLUENT IN SPANISH